April 13, 2018
Don't Miss the 3rd Annual Growlers, Grapes, & Grains!
By: Donafaye Zoll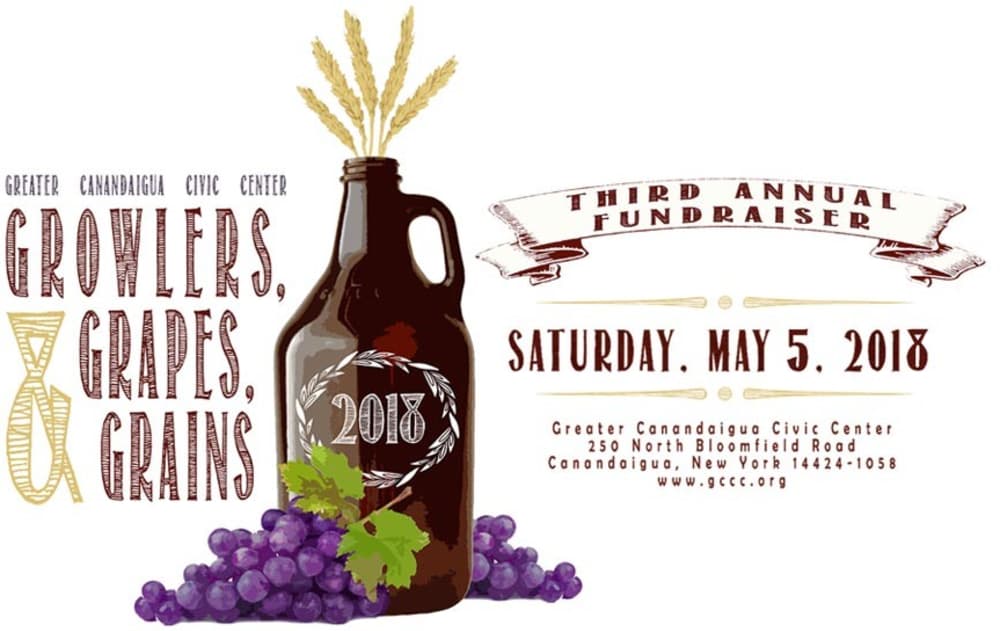 The third annual Growlers, Grapes, & Grains tasting event combines local craft beer, wines, and hard ciders with excellent food, live entertainment, and the Kentucky Derby on the big screen! May 5th, 2018 at the Greater Canandaigua Civic Center.
Growlers, Grapes, & Grains is back for its third year and looking to be even bigger and better than last year, which is really saying something!
This annual tasting event takes a fresh approach to the food and wine pairing experience by adding craft beer and hard cider into the mix. This year's list of local and regional breweries, cideries, and wineries is shaping up nicely, with more to come
Growlers, Grapes, & Grains Beer, Wine, and Cider Vendors
Brew and Brats at Arbor Hill
Naked Dove Brewing Company
Stumblin' Monkey Brewing Co.
Blue Toad Hard Cider
OSB Ciderworks
VB Brewery
Brewery Ommegang
Fox Run Vineyards
Hazlitt 1852 Vineyards
Heron Hill Winery
Star Cidery
Brotherhood, America's Oldest Winery
Smokin' Hot Chicks BBQ will provide this year's entrés – and what a treat that will be! Smokin' Hot Chicks BBQ serves BBQ chicken, pork, beef, and fish made with hickory or apple smoke. Though they are based out of Rochester, NY, they're food has an undeniable and delicious SoCal/TexMex style.
Entertainment for Growlers, Grapes, & Grains 2018 comes in a variety of forms.
Dave McGrath kicks the evening off with his signature mix of acoustic covers and originals. This is followed up by a big screen showing of Kentucky Derby 2018! JunkYardFieldTrip closes out the evening with their own brand of eclectic, electric tunes.
Growlers, Grapes, & Grains also includes a variety of vendors, desserts, silent auctions, raffles, and more. This casual event is fun to share with friends and the proceeds benefit the Greater Canandaigua Civic Center.
Don't miss out!
Growlers, Grapes, & Grains 2018
May 5th, 2018 / 5pm to 9pm
Greater Canandaigua Civic Center
250 N Bloomfield Rd Canandaigua, NY 14424
Learn more at gccc.org.
Tickets for Growlers, Grapes, & Grains 2018 are available online.
Canandaigua Lodging
No matter what brings you out to the Finger Lakes, Sutherland House Victorian Bed and Breakfast is ready to be your home away from home! The convenient location of our Canandaigua B&B puts the best of the Finger Lakes within easy reach. Treat yourself to our tranquil setting, five upscale guest rooms, and lavish three course gourmet breakfasts. Book your room at Sutherland House today!