June 27, 2019
Your Adventure Guide to the Finger Lakes Beer & Ale Trail
By: Donafaye Zoll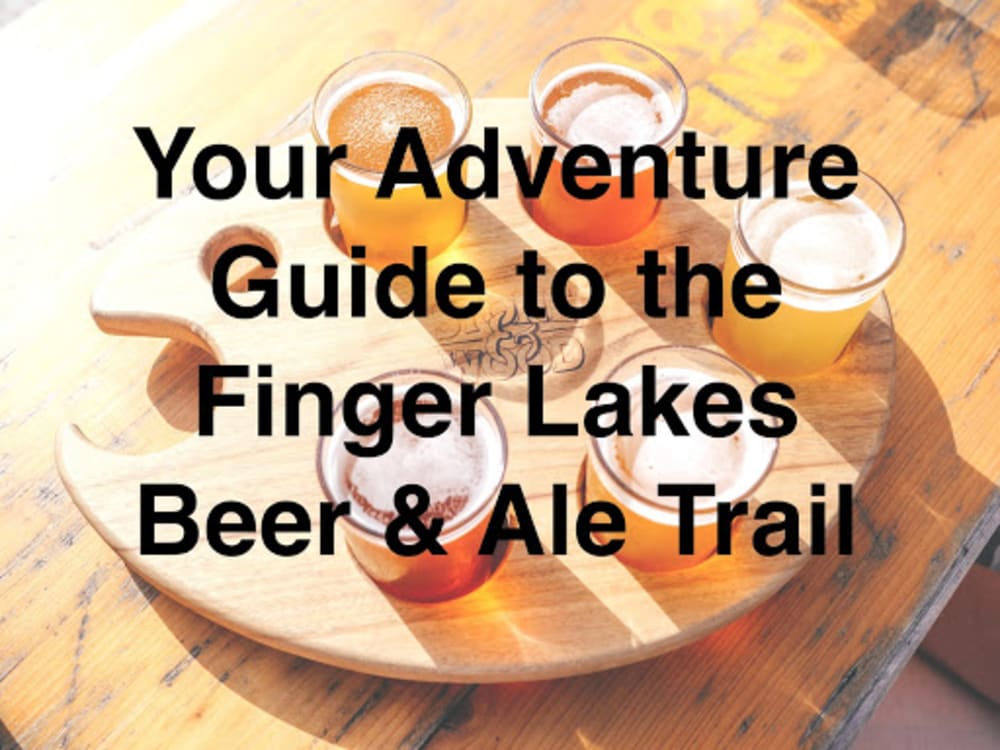 Craft breweries are popping up all over the nation and it feels like every small town has at least one. But the Finger Lakes area of Central New York hosts an unusually large amount of craft breweries. The really surprising part? ALL of them are really good. Gone are the days of experimental craft beers that tasted a little off; these breweries are creating delicious lagers, hoppy IPAs, and rich stouts that will blow your socks off. With all of these heavenly breweries scattered around the Finger Lakes, there's no surprise that someone designed a Finger Lakes Beer & Ale Trail so you can hit these great breweries in one awesome adventure. Here is everything you need to know (plus some insider tips) to make the most out of your Ale Trail.
Map Your Route

With over 130 stops spanning from Binghamton to Syracuse and going as far west as Batavia, there's a lot of terrain to cover. You can break it into sections and try to hit a different area each day for a couple of days, or just complete a single section. You can check out different itineraries on the Finger Lakes Beer Trail website. Some of the favorites include the Rochester-Canandaigua loop and the Seneca Lake loop which are both 2-day loops perfect for a weekend getaway, and both featuring stunning scenic drives.
Choose your Transportation
Even if you are just sampling a couple of flights here and there, drinking and driving is never a good idea. Bring along a designated driver and drive around worry-free or hire a tour to take you around to all your favorite breweries without the stress of having to drive. Crush Beer and Wine Tours out of the Rochester/Canandaigua area is one of the best in the business. Their all-inclusive packages cover the cost of transportation, beer tastings, and even a souvenir tasting glass. No worries on this ride!
Breweries to Keep an Eye Out For
Abandon Brewing Company on Keuka Lake is one of the most unique on the trail. Set in a reconditioned barn built in the 1800s this eco-friendly brewery uses a combination of solar and geothermal energy to brew beers and light the buildings.

Peacemaker Brewing Company in Canandaigua makes excellent beers with names all inspired by the music of Roger Clyne & the Peacemakers. There's no surprise that a brewery inspired by great music is always hosting different local artists. Stop on by to taste some truly great beer and listen to some wonderful local artists.

Boathouse Beer Garden & Brewing Company on Cayuga Lake has one of the best brewery views on the tour. This brewery has great views of Cayuga Lake and is always throwing fun events. Pro tip: plan your trip around one of their awesome events like their Dead of Summer Weekend on August 9th & 10th to take your trail tour to another level.
Accommodations
You can visit a lot of these breweries in a day, but definitely not all of them. If you want a really great beer tour, we suggest spending the night somewhere and extending the fun. Depending on the route you want to take, you'll be looking at different accommodations in all sorts of towns across the Finger Lakes region.

Pro Tip: Stay with a place that includes a great breakfast. After a long day touring breweries, (and honestly drinking a little too much) the last thing you want is to worry about where to grab breakfast the next day. Sutherland House Victorian Bed & Breakfast in Canandaigua, for example, serves up a stellar three-course breakfast included with your stay. Enjoy a great meal filled with baked goods, fresh fruit, and a breakfast entree so masterfully crafted, it may be the highlight of your trip.
No matter which route you take, you will experience some of the best breweries out there, see the awe-inspiring Finger Lakes region, visit some charming towns, and leave with lasting memories.
Planning a trip on the Finger Lakes Beer & Ale Trail? Book a stay at the Sutherland House Victorian Bed & Breakfast, a historic inn located in the heart of beautiful Canandaigua, New York.