October 16, 2018
A Wine Lover's Guide to the Finger Lakes
By: Donafaye Zoll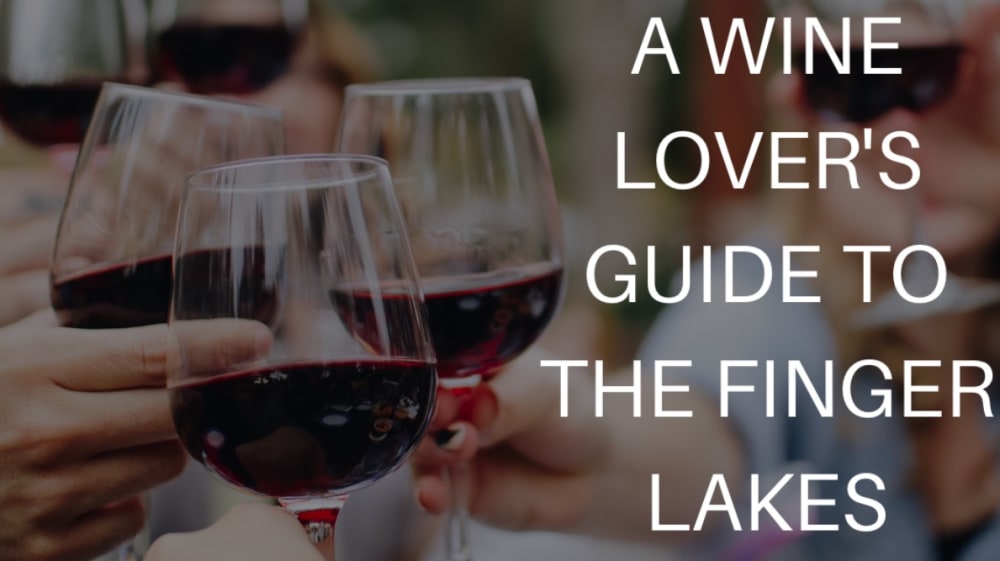 There are more than 100 wineries, breweries, and distilleries located throughout the Finger Lakes. In 2018, USA Today even named the Finger Lakes one of the 10 best wine regions in the country. The region produces a unique and delicious class of wines thanks to the distinct microclimate created by the lakes. The lakes serve as a natural temperature regulating system that prevents major dips or swells in the region's air temperature, making for a longer growing season and sheltering the grapes from premature exposure to frost.
The Finger Lakes specialize in aromatic white varieties like Riesling and Gewurztraminer as well as cool-climate reds like Cabernet Franc and Pinot Noir. You can sample these for as little as $2-5 dollars at the many world-class vineyards located in and around Canandaigua. Even better, many of these wineries do not require advanced reservations for tours and tastings, unlike more famous wine destinations in Napa Valley or France. Clearly, there are huge benefits to touring an under-the-radar wine destination like the Finger Lakes that go beyond our delicious, one-of-a-kind wines. Just get here before the crowds start pouring in!
Many of the region's premier vineyards are easily accessible from the Sutherland House Victorian Bed & Breakfast. For the particularly ambitious, the Canandaigua Lake Wine Trail boasts a whopping 22 miles of wineries. You can hit everything on the trail or simply visit a couple at your leisure. Read on for some of our favorites.
Located at the southern end of Canandaigua Lake, the Arbor Hill Grapery has been producing quality New York wine since 1987. They were the first to produce Traminette, a spicy, semi-sweet white wine. They offer a huge selection of wines, gourmet foods, gifts, and gift boxes as well as their famous grape pies. Throughout the year, they host a variety of culinary events and open mic nights in their peaceful and gorgeous New England country setting.
Hazlitt's Red Cat Cellars is a 7th generation winery with over 165 years of expert, award-winning wine experience. It is considered one of best and most historic wine producers in the nation! This is an excellent place to take a tour. Their friendly and informed guides will treat you to a fascinating behind-the-scenes look at the art and science of winemaking (though in this case, you must reserve your spot first.) You can also take a scenic hike near the winery and then reward yourself with a delicious glass of wine. Hazlitt's also offers cider, popcorn, and wine slushies.
Inspire Moore Winery is unique in the region for their commitment to sustainability. They are located in a cheerily covered blue and purple building created using reclaimed timbers from the Northeast, making it both beautiful and energy efficient. A boutique winery, they produce 12 different wines in small batches, including aromatic whites, vintage reds, ice wine, and blends.
Heron Hill Winery & Tasting Room boasts three wineries throughout the region, including one in Canandaigua. The local tasting room is located in a lovely 100-year old barn where you'll find high ceilings, original hand-hewn wooden beams, and huge windows with stunning views of the vineyards. It is so beautiful that it was chosen as one of the ten most spectacular tasting rooms in the world by Travel + Leisure magazine! And of course their wines are pretty spectacular too. If you have the time, you can also visit their locations in Seneca and Keuka.
If you are here in September, consider attending the Naples Grape Festival. This harvest season celebration has been held every fall since 1961 and features local artists and artisans, wine makers, local and regional music, and delicious cuisine. It also hosts the annual Greatest Grape Pie Contest, where local bakers compete with their tastiest best grape pies.
Planning a trip to the Finger Lakes? Book a stay at the Sutherland House Victorian Bed & Breakfast, the perfect place to rest your head after a day of sampling the region's world-class wine.