The Inn
Explore Our Finger Lakes B&B Inn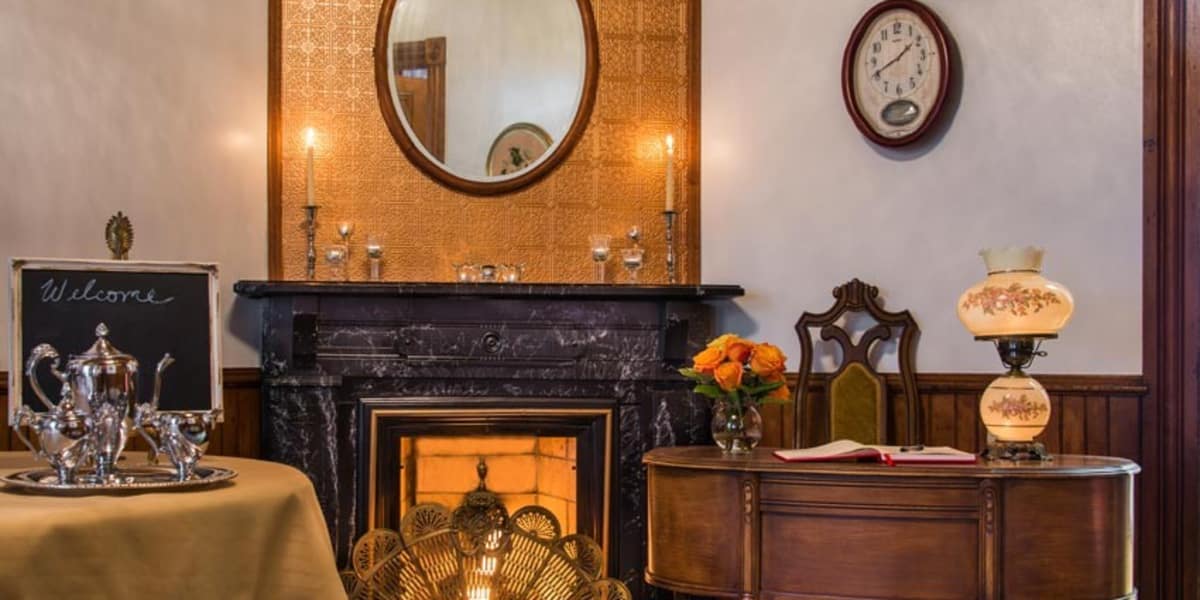 In 1885, Henry C. Sutherland, the youngest of five brothers who made Canandaigua, "The Chosen Spot", their home, built a grand Second Empire Victorian home on a 50 acre parcel of farmland. Henry and his wife, Lillian, raised their family on this estate while Henry launched his career as the Vice President of the Canandaigua Tin Company, served on the Board of Directors for the Canandaigua First National Bank, and raised cattle on his farm.
More than 100 years later, while saving the last five acres of the original parcel, Henry and Lillian's home was completely renovated and restored. The tower lights under the original cast iron decorative cresting have once again been lit. The home, lovingly established as a bed and breakfast, is now known as Sutherland House Victorian Bed and Breakfast.
Inside, guests are welcomed into the Victorian era parlor, often being warmed by a roaring fire. Outside, guests relax on the patio under our magnificent 300 year old copper beech tree surrounded by gardens.
Our Finger Lakes Inn B&B enjoys a convenient location just outside of town, with extra outdoor space and storage for your use. Our unique location, situated on five acres with plenty of parking, allows guests to travel with and park a trailer for boats or vehicles such as snowmobiles and motorcycles. We also have secure indoor storage for bicycles, sports equipment, kayaks, golf equipment, or other items. Additionally, we can accommodate larger gatherings and use outdoor spaces on groomed, flat lawn areas for activities.
---
Purchase Gift Certificates for Stays at Our Finger Lakes B&B
A gift certificate is always a welcome gift. We can design a gift certificate for a dollar amount of your choice, for example, "$100 Towards Your Stay at Sutherland House", or choose a room you like, such as "A Weekend Stay at the Parker House Suite". Gift certificates are good from one year from the last day of the month they are purchased. We accept Visa, Mastercard, Discover, American Express, check and cash for purchase of gift certificates. Call us at 1-585-396-0375 or email us at Innkeeper@SutherlandHouse.com to order a gift certificate today. (Gift certificates are not refundable and cannot be redeemed or exchanged for cash. Any additional cost exceeding the value of the certificate is to be paid by the redeemer. Guest must present valid identification. Contact the Innkeeper for reservations.)
Amenities
Each room includes the following: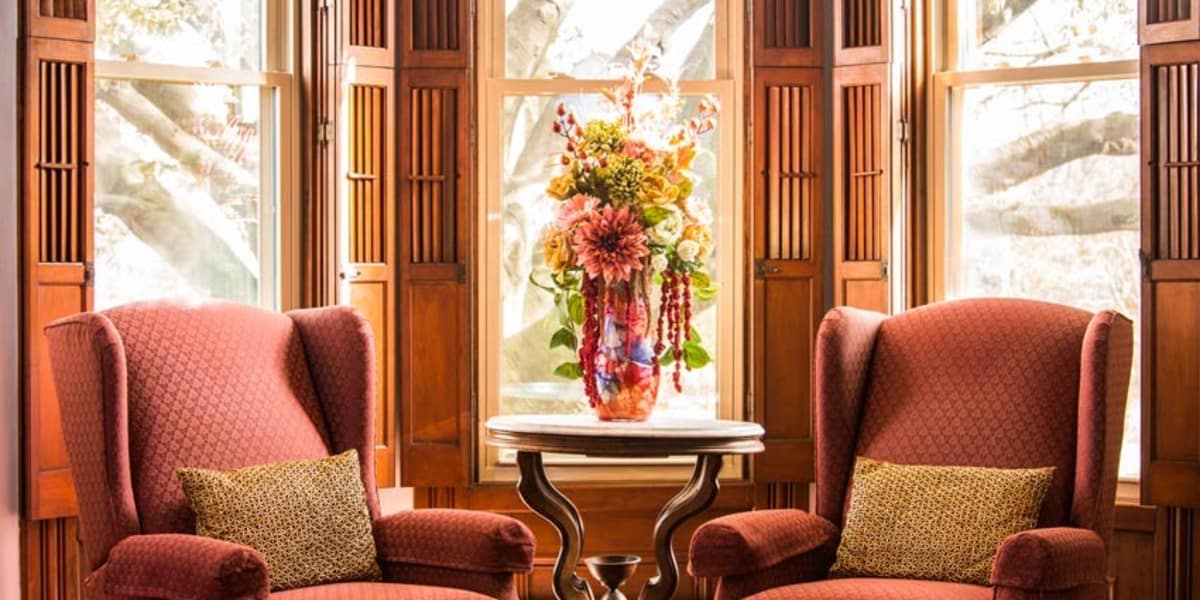 3 Course Gourmet Breakfast
Homemade cookies and treats
32" Flat Screens w/ digital Cable TV
Wi-Fi in all areas
CD/DVD Player or VCR/DVD Player
CD player & Relaxing Music CD's
Alarm clock
Individually controlled AC
Privacy Locks on all Guest Rooms
Ceiling fan
Hairdryer
Bath robes
Gilchrist & Soames bath products
A choice of pillow firmness
24/7 coffee, tea, cold beverages, & snacks
Guest refrigerators
"To-Go" cups for early morning excursions
Ice bucket & ice for each room
Iron & ironing board (upon request)
Breakfast
is an event at our Canandaigua Bed and Breakfast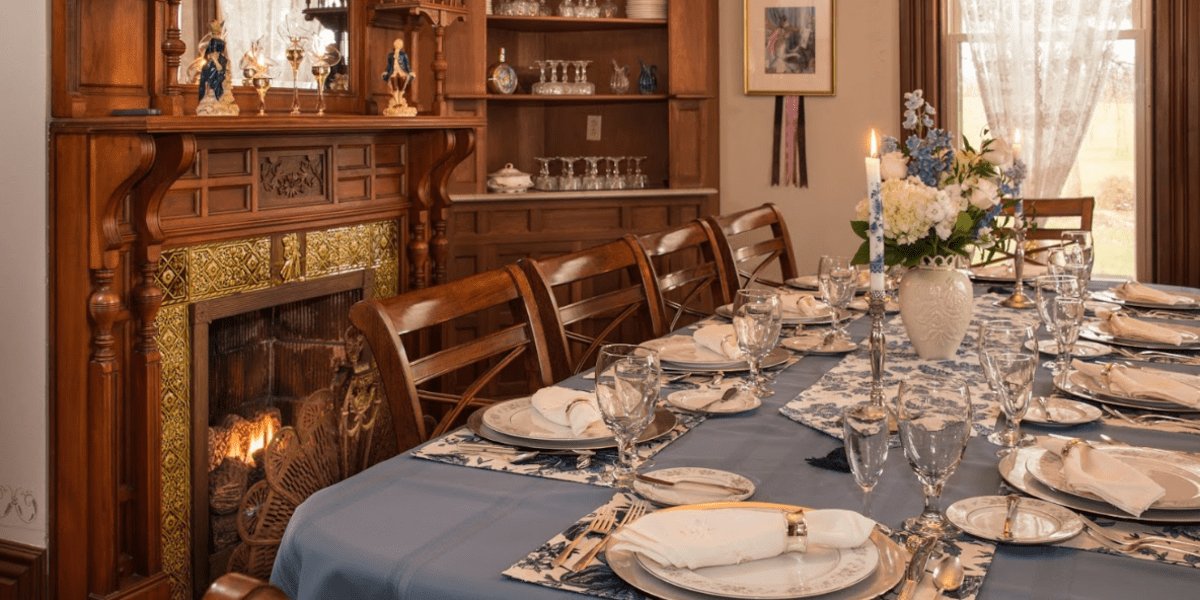 Each day at our Canandaigua Bed and Breakfast, a lavish three course gourmet breakfast is served (next to the fire in cold weather), replete with fresh fruit dishes, house-made baked goods, sumptuous entrées, soft music and candlelight. During your stay, each day's menu is different, alternating between sweet and savory. The epicurean delights don't stop there – daily fresh homemade cookies and treats are available for your enjoyment.
Fresh brewed coffee is available at 8:00 a.m. in the parlor, and if weather permitting, on the patio. Breakfast is served at 9:00 a.m. As the aroma of fresh brewed coffee and baked goods fill the air, there is anticipation and excitement. Soft music is playing in the background. The candles are lit. A beautiful table is set. And now, a delicious, bountiful three course breakfast is about to be served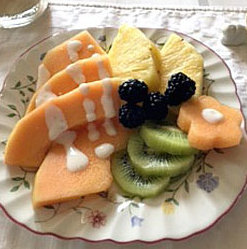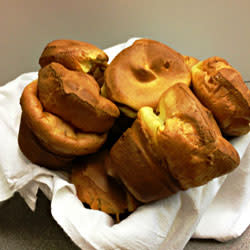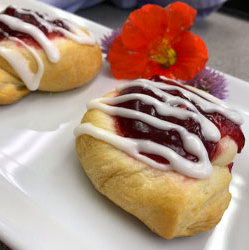 Course One:
Enjoy an assortment of juices and fresh coffee, or choose from an assortment of imported loose fine teas from Good Life Tea, served in your own teapot.
A special fruit dish follows. Delight in the discovery of dessert for breakfast, such as Grapefruit Brûlée or Rum Raisin Pears, just to name a few. Other favorites are in-season fruit topped with Vanilla Cremé, Mixed Berries with Limoncello Mascarpone, and Grilled Peaches with Ricotta and Honey.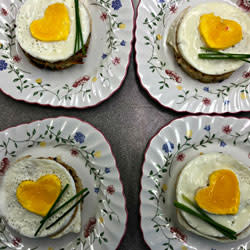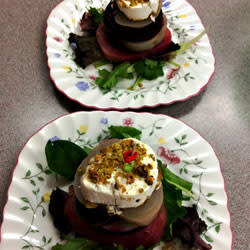 Course Two:
Next are fresh baked scones, pastries, bread, biscuits, muffins or sweet breads, served with assorted butter, jams and toppings, often house-made.
Accompanied with the baked goods is a Greek Yogurt Sundae or a vegetable dish, such as Spring Salad with fruits and nuts or Roasted Beets with Ginger Spiked Blackberry Vinaigrette and Goat Cheese.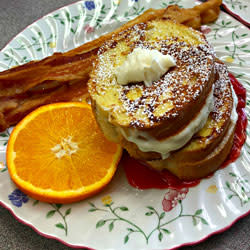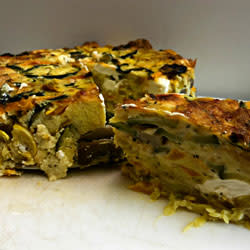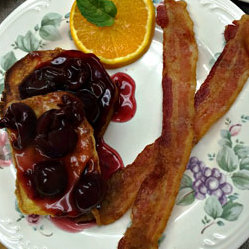 Course Three:
Indulge your breakfast fantasies during the main event. After having whetted your appetite during the first two courses, dine on sumptuous fare such as:
Italian Eggs Benedict on House-Made English Muffins
Banana Stuffed French Toast with Bananas Foster Sauce
Egg & Cheese Souffle
Carrot Cake Pancakes with House-made Cinnamon Syrup
Cinnabon Waffles with Cream Cheese and Cinnamon Toppings
Lemon Ricotta Crepes with Blueberry Sauce or Apple and Brie Crepes with Fruit Compote
Strawberry Cheesecake French Toast
Egg and Mushroom Crepes with Tarragon Cream
Eggs on a Puff Pastry with Fresh Herbs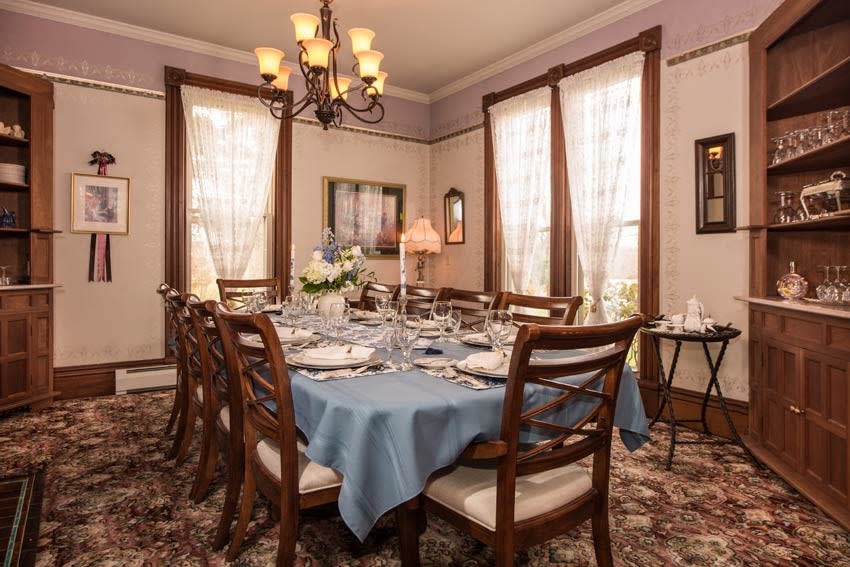 Reviews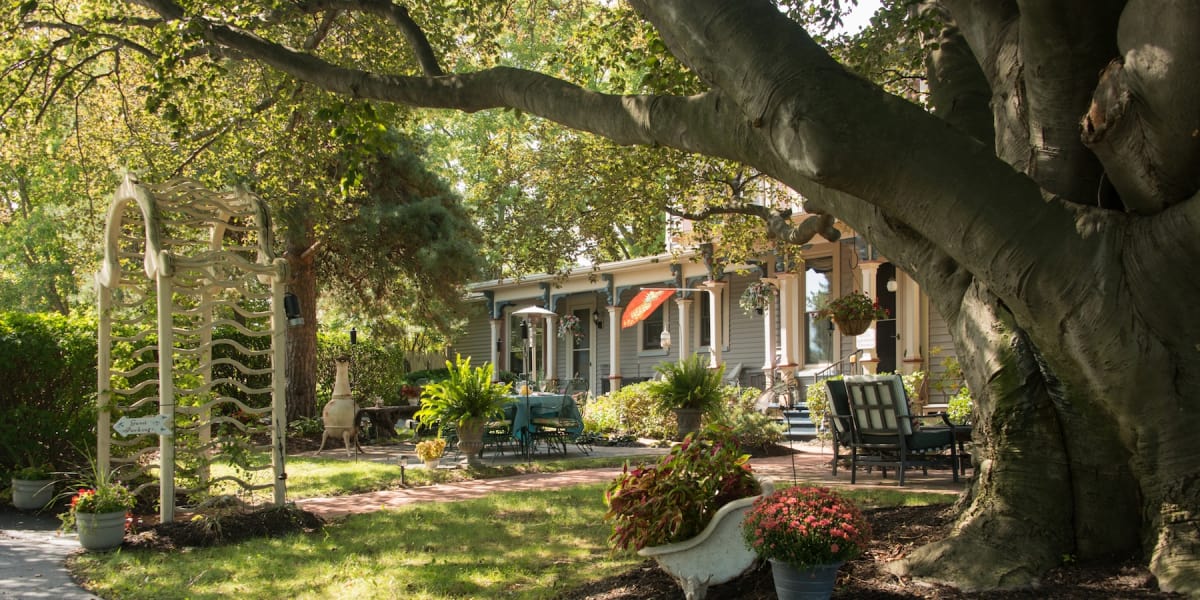 Even Gatorade at this New York Bed and Breakfast!

Thank you Faye & Bob for all of your hospitality. We came up for the Musselman Triathlon and was so excited to find Gatorade in the fridge even! This room is so comfortable and it was such an enjoyable trip. We hope to return again!
Megan & Noah, Latrobe, PA
---
Memories
This was an awesome experience staying at Sutherland …how many get to stay in the Rose Garden and Lillian's Loft?! We take home many wonderful times with our hosts Faye & Bob. So very special these two. Thanks for the memories….
Karen & Matt, Cinnaminson, NJ
---
Cozy Respite at a New York Bed and Breakfast

What a lovely respite from the pressures of the world. Henry's Haven is such a lovely, cozy escape from the world. And – Faye & Bob, as always, were the most gracious hosts,providing unbelieveable food that warms the soul. We will return to Henry's Haven for our next escape.
Gary & Kathy, Westampton, NJ
---
Weekend to Remember
Bob & Faye, thank you for everything this weekend. Your hospitality was heart felt and breakfast was delicious! This was a weekend to remember! Thank you for making our first stay at a B&B wonderful. We can't wait to come back!
Cassie & Trever, Scottsville, NY
---
Above and Beyond
Faye & Bob, an absolutely amazing experience. Your hospitality went above and beyond. The food served daily was truly five star. We are looking forward to coming back to your beautiful B&B on our next trip to the Finger Lakes. Thank you for the wonderful accommodations and food.
Karl & Susan, Orlando, FL
---
Completely Spoiled!
Bob and Faye, we had a wonderful trip! Thank you for being so accommodating. We felt completely spoiled! We appreciated the chocolate strawberries for our anniversary and that you took the time to help us find activities nearby. The breakfasts, desserts and snacks were amazing! Thanks for helping us celebrate our 10th anniversary. It was fantastic!
Chad & Valerie, Shinglehouse, PA
---
We'll Be Back to this New York Bed and Breakfast!
"Faye & Bob, awesome time. Everything was incredible. Thanks for spending so much of your time to make our stay so wonderful. Coming here is like being part of your family. We'll be back often and have lots more we want to see and do. Thanks so much."
Ed & Kelly, Atco, NJ
---
Totally Delightful Stay!
"Thank you Bob and Faye for sharing your beautiful home with us! We had a delightful stay in the Parker House Suite… bay windows, two fireplaces, candles, and beautiful view of the grounds and countryside. The Decor was quality Christmas charm top to bottom. It was hard to find a Christmas/Anniversary getaway that offered suite accommodations with a fireplace and jacuzzi, and this B & B offered all that and more! Several locations of snacks, homemade sweets, hot and cold beverages, book cases of reading material, games and movies. And breakfast was so delicious! It was a treat to be pampered with such quality. What wonderful hosts. Even with the excellent reviews we read, our stay was still above and beyond our expectations!"
Michelle & Richard, December 2016
These are just a few excerpts from our guests books. See more reviews about our New York Bed and Breakfast on TripAdvisor, BedandBreakfast.com, BnBFinder.com and ILoveInns.com