September 27, 2019
48 Hour Fall Guide to Canandaigua, NY
By: Donafaye Zoll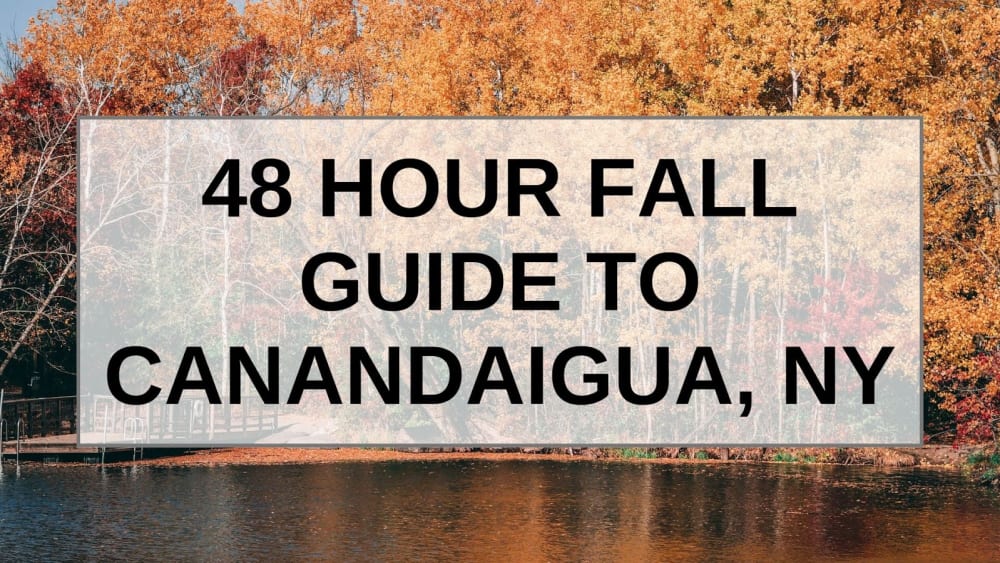 Summer may be over, but if you love chasing the changing leaves, pumpkin patches, crisp fall air, and weekend getaways, then Canandaigua is the perfect destination. With autumn events happening almost every weekend, corn mazes running all over the county, and tons of fall-related activities, you can get your fall fix in just one good weekend getaway. Before you commit to our itinerary, make sure to check out Visit Finger Lake's Event Calendar for all the autumn events happening this season. You'll still be able to squeeze in all of our fun fall activities too!

So it's Friday night and you are on the road, ready to head to a new town and take a break for a little bit. Canandaigua is the destination, but you're not quite sure of what to do while you're there. Luckily for you, we've put together the perfect weekend itinerary to let you explore the town and relax. First things first, you're going to want somewhere to stay that is close to town but tucked into nature so you can immerse yourself in the fall foliage. Sutherland House B&B is the perfect spot to post up for the weekend. Their comfortable rooms offer you a luxurious retreat to relax in after a day of exploration and they are close enough to town and all the best attractions so you won't be spending your weekend driving in circles.

Friday Evening:

Pull into Sutherland House and get situated. You'll be greeted with freshly baked desserts like gooey chocolate chip cookies or smores brownies to munch on while you unpack. Unless you stopped somewhere along the way for dinner, you'll probably want somewhere to grab a quick bite. The Twisted Rail Brewing Company is an unfussy brewery with a small kitchen situated in a house on the lake. No need to get dressed up or make reservations, you can walk right into their taproom and feel right at home. Grab one of their signature ales and a bite to eat off of their seasonal and fresh menus. Afterward, stroll across the lakefront in Kershaw Park or head back to your room to relax in your luxurious rooms.

Saturday:

Let the smell of freshly brewed coffee, homemade breakfast, and pastries pull you out of bed. You'll be pleased to find a lavish three-course breakfast complete with fruit, sumptuous entrees, and right out of the oven goodies. Dine on a breakfast fit for a king before heading out for a day of fun.

Head out for a Hike: If you want to see the fall foliage up close, then the best way is to pick a trail and go out for a nice hike. In the High Tor Wildlife Management Area, there are a lot of great hikes leading to waterfalls, mountain tops, and scenic vistas. One of the most popular is Grimes Glen, an easy 1-mile loop to a beautiful waterfall. If you are planning on this hike, wear some waterproof shoes or rain boots instead of your regular tennis shoes because your feet will get wet. If you want to stretch your legs a little more and trek further in the woods you can pick a hike from our list of Favorite Hikes in the Finger Lakes.

Lunch at Brew and Brats: While you're hiking around on the south side of Canandaigua Lake, stop by a local favorite: Brew and Brats off Highway 64. Sometimes the best food out there is a little mom and pop shop on the side of a rural highway. This restaurant is only open on Friday, Saturday, and Sunday but is filled with laughter, savory brats, and refreshing beers for lunch and dinner.

Head into Town: Make your way to downtown Canandaigua to spend the rest of your day exploring the town. The Ontario County Historical Museum is a must-see for any history lover or person interested in the area. This is a great activity if the weather is a little too chilly. After you're done learning about prohibition in Ontario County and checking out the Majesty of Flight exhibit, you can wander around the downtown and pop into the charming shops scattered all over the main street. Granger Homestead is another favorite attraction in Canandaigua. Tour the Granger Homestead and Carriage Museum to see where 4 generations of Grangers lived between 1816-1930.

Dinner: You can head back to your rooms at Sutherland House, a mere 2 miles away from the town to clean up and relax, or head straight to dinner at Bon Ami Bistro. This French bistro is one of the newer establishments in town and is a much-needed mix to the Canandaigua restaurant scene. Every bite is perfectly created to have a complex range of flavors that melt in your mouth. Have a craving for some other kind of entree? Check out our list of Favorite Restaurants in Canandaigua.
Sunday:

Once again, the smell of a tasty breakfast will pull you out of bed. Come to the dining area to find a completely different, yet just as appetizing 3-course meal waiting for you. Savor every bite before heading out for your last day in Canandaigua (say it ain't so!)

Sonnenberg Gardens: Before you leave Canandaigua, you must visit the famed Sonnenberg Gardens & Mansion State Historic Park on the north side of town. This public park is one of New York State's gems and brings in tourists year after year to view the gorgeous gardens and museum set in the historic mansion. The estate closes doors on October 31st, but the best time to go is between Labor Day and Halloween because it is less busy and the fall colors make the grounds so picturesque.
Wickham's Pick'n Patch on the way out: Before you leave the area, travel over to our neighboring town of Stanley for the best pumpkin patch in the state. Wickham's Pick'n Patch embodies everything people love about fall. Pumpkins, corn mazes, hot apple cider, freshly-made doughnuts, and great events. Find the perfect pumpkins and take them home to carve and put on your porch.

After only two days, it feels like there is so much of Canandaigua left to explore! Luckily, Canandaigua is a thriving town all year round, and you can visit during any season to find new activities, fun events, and your favorite eateries.

Ready to experience fall in the Finger Lakes? Book a stay at the Sutherland House Victorian Bed & Breakfast, a historic inn located in the heart of beautiful Canandaigua, New York.