January 15, 2019
Our Favorite Restaurants in Canandaigua
By: Donafaye Zoll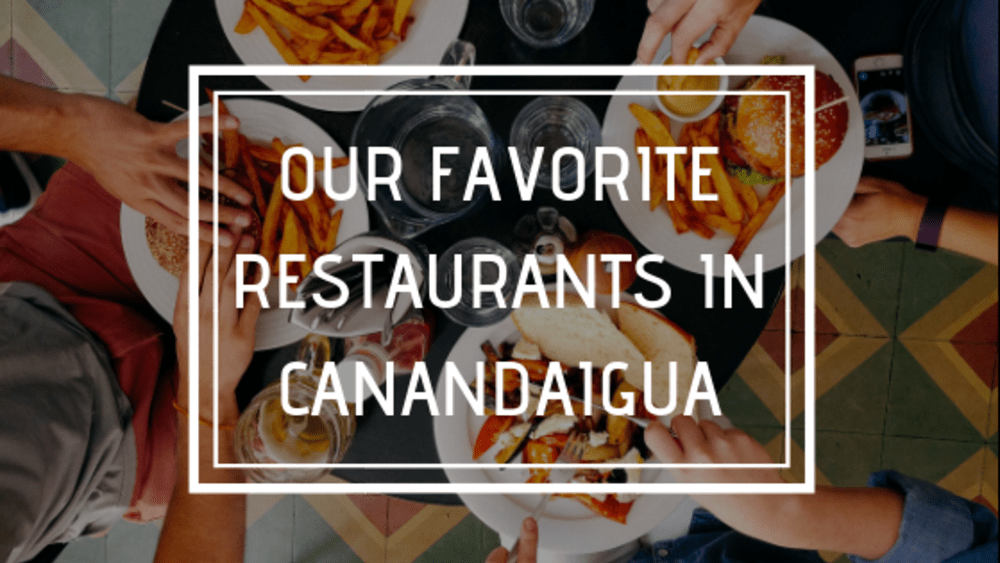 If you are looking for a good place to grab a bite during your time in Canandaigua, you'll find plenty of delicious options near the Sutherland House Victorian Bed & Breakfast. From tasty pub fare to inventive Indian cusine, Canandaigua is filled with countless first-rate places to satisfy your appetite. Here is our guide to the best restaurants, cafes, and bar in town.
1. The Green Front
The Green Front is a popular local hangout with delicious food and a unique history. The pub first opened in 1928 as a speakeasy. Even then, it was known to have the best burger in town. 90 years later, that reputation still stands. The Green Front also serves mouthwatering pizza, wings, soups, and salads as well as craft beers and Naked Dove Wines. Its warm atmosphere, fast and friendly service, and rich history make The Green Front a must-do for any visitor to Canandaigua.
2. Catch 407
Catch 407 specializes in steak, seafood, and oysters, with unbeatable daily specials and one of the best happy hours in town. Whether you come for Oyster Tuesdays, when you can get their amazing oysters for just $1, Wine Down Wednesdays, or Prime Rib Thursdays, Catch 407 is the place to go for great food at great prices. During Happy Hour, you get $1 off all wine, beer, and cocktails. Their menu is packed with mouth-watering items even the pickiest eater will enjoy. And with meat-free items like cauliflower steaks and mushroom and asparagus risotto, vegetarians won't go hungry either.
3. Rio Tomatlan
If you are in the mood for tasty and authentic Mexican cuisine during your time in Canandaigua, look no further than Rio Tomatlan. Their menu is packed with traditional dishes from all across Mexico, featuring classics like enchiladas, pozole, mole, tamales, chiles rellenos, and more. Having trouble deciding what you want? Pick from their Variadas menu, which allows you to combine several menu items for one delicious and filling meal. Rio Tomatlan also offers incredible cooking classes and hosts a variety of one-of-a-kind events throughout the year.

4. Eric's Office Restaurant
There is something for everyone on the menu at Eric's Office Restaurant. This family-owned establishment offers good food and friendly service with a welcoming, old-school ambiance. Eric's Office Restaurant boasts 16 different ways of preparing a burger or sandwich. They also serve up salads and pastas, pub fare like wings or loaded potato skins, and a variety of chicken and seafood dishes. Plus, Eric's is also rumored to have the best steak in town.

5. Rheinblick German Restaurant
Rheinblick German Restaurant specializes in traditional homemade German food served in a cozy and jovial setting with Old World charm. The owners are German natives, so you know the food will be as authentic as it gets. Their tongue-twister of a menu is filled with menu items like Kartoffelpuffer (traditional german pancakes) or Schweinshaxe (beer-basted pork shank). Though you might struggle to pronounce it, the food is delicious. We recommend their Currywurst, a traditional Berlin street food, but they also offer a variety of brats and schnitzel as well as vegetarian and gluten-free options. Be sure to enjoy a tall stein of German beer with your meal.
6. Flavors
It's all in the name. Flavors is our go-to spot in town for delicious, flavor-packed Indian dishes made with the finest of Indian spices. Flavors is the only Indian restaurant in town, but they do things right. Here you'll enjoy a variety of tandoori dishes, curries, makhani, vindaloo, and so much more. Come for great food served in a lively atmosphere with exceptional service.

7. Warfield's
Warfield's is located about 15 minutes away in Clifton Springs, but it is well worth the trip. This historic spot has been around since the 1800s, making it one of the oldest and most beautiful spots in the area. Warfields retains its original turn-of-the-century elegance while continuing to serve top-notch American cuisine in their charming dining room. There is also a traditional English garden located on site, perfect for taking a romantic stroll before or after your meal. Come for lunch, dinner, or a stiff cocktail in their lovely, oak-paneled lounge. Warfield's is a piece of Finger Lakes history you shouldn't miss.

Planning a trip to the Finger Lakes? Book a stay at Sutherland House Victorian Bed & Breakfast, located in the charming town of Canandaigua.