July 22, 2019
6 Ways to Stay Active in Canandaigua
By: Donafaye Zoll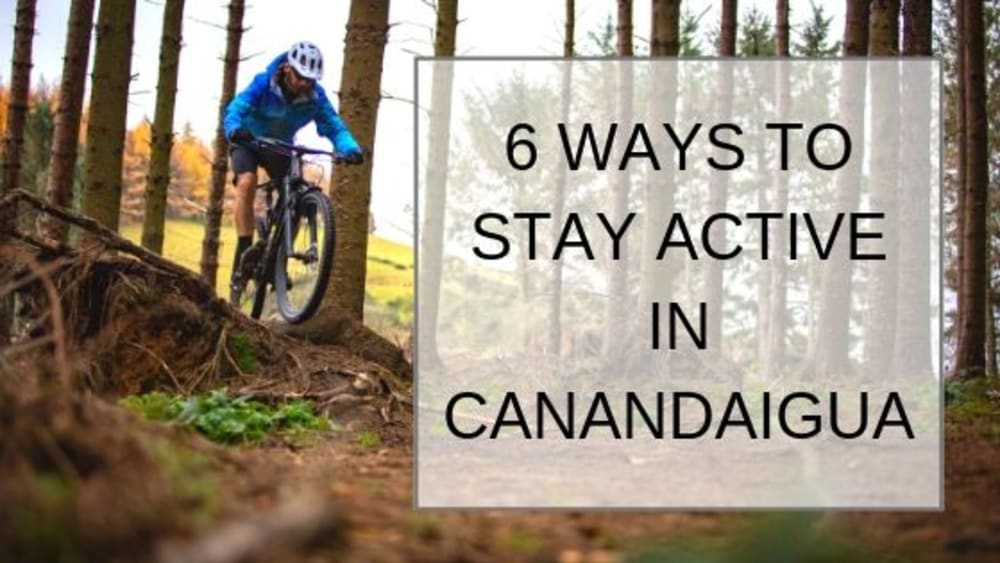 With a place as stunning as Canandaigua, you can't help but want to get outside and work up a sweat. I don't know about you, but I always sleep better after a long day filled with adventures. If you're looking for the best ways to explore Canandaigua and get active, then we've got the list for you.

#1: Go for a hike
With beautiful scenic views and abundant trails, hiking around Canandaigua is a great way to get outside, stretch your legs and be active! Our favorite hiking trail is in Onanda Park on the west side of the lake. Large shade trees and excellent views of the lake are more than enough to keep you engaged, but the best part is Barnes Creek and the waterfalls that caress along the gully. Some of the more adventurous hikers like to walk up the creek, but the meandering creekside trail is lovely as you are able to overlook the falls with a birds-eye view. Want some more hiking ideas? Check out our blog post on our 6 Favorite Hikes in the Finger Lakes to find one that speaks to you.

#2: Disc Golf
You may see disc golf baskets popping up all over parks, farms, and even out in the middle of nowhere. That is because people are catching on to how fun disc golf is. Take the basic rules of golf but use a frisbee instead of a golf ball and a basket instead of a hole. This little sport is great because it is easy to get into as all you need is 1 frisbee per player and the courses are usually free and open to the public. Lakefront Park on Seneca Lake hosts a great disc golf course that borders the lake. Spend the day outside, walking around in nature, and learning to play a fun new sport!

#3: Yoga
In the studio, in your living room, or outside, practicing yoga is one of the best things you can do for your health and mind. Just because you are away from your regular schedule doesn't mean you can't find a beautiful spot and meditate! Head to one of Canandaigua's several lakeside parks to find a relaxing spot to practice your flow. If you like the idea of a guided lesson, head over to Grounded by Yoga in downtown Canandaigua to take one of their rejuvenating classes.

#4: Bike around
Rent a bike and ride down the coast of the lake. Or head over to another town for lunch. Or check out Bristol Mountain ski resort during the offseason. The possibilities are endless when it is just you and the open road. Do you like the idea of trails instead of road biking? Head over to Ontario County Park at Gannett Hill to climb up woodland trails to one of the highest points in the county. It may be difficult, but the views are more than worth the challenging ascent to the top.

#5: Kayak/ SUP on the water
With such a breathtaking lake everyone is itching to get in. You can wade in from one of the many parks, but there's nothing quite like floating on the water and exploring the coast of the lake. Canandaigua Sailboarding is a great little shop with lots of floatation rentals and lessons. Grab a kayak or a paddleboard or venture out and take a windsurfing lesson.

#6: Snowshoe & Ski
When winter comes and the snow starts to fall, Canandaigua turns into a cozy white wonderland. The glacial carved hills are stunning in the winter and hiking/biking trails are still usable by snowshoe or nordic ski. Wander around the lake to find flat and easy to maneuver trails or climb up the hills for more of a workout and 360° views. Once you're done with your chilly outdoor adventure, head on back to Sutherland House Bed & Breakfast to warm up with a hot cup of coffee and homemade treats.
No matter what time of year you visit, Canandaigua is a sportsman's paradise. Practice your yoga flow in the Spring. Paddle around in the lake all summer long. Bike and Hike through the vibrant Fall foliage. Snowshoe the hills during Winter. Canandaigua truly has an activity for everyone.
Planning a trip to Canandaigua? Book a stay at the Sutherland House Victorian Bed & Breakfast, a historic inn located in the heart of beautiful Canandaigua, New York.