March 19, 2019
Our Favorite Local Food & Wine Tours
By: Donafaye Zoll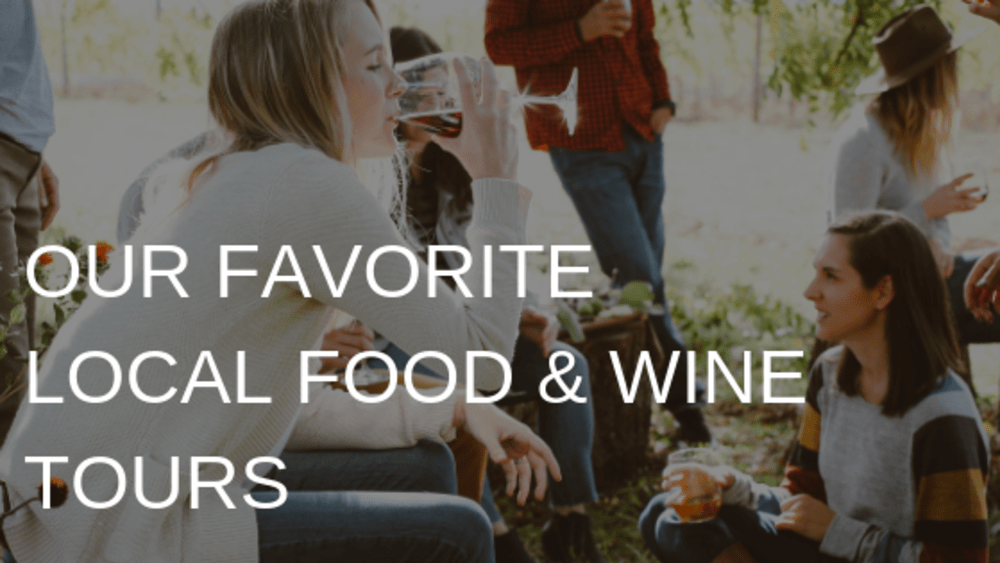 The Finger Lakes is a true paradise for people who love to eat and drink. Our corner of New York state is home to countless delicious restaurants, many specializing in organic, farm-to-table cuisine, as well as world-class wineries and innovative craft breweries. In fact, there's so many that it can be a little daunting to try to explore them all on your own. That's where these excellent local food & wine tours come in. These tours allow you to experience the Finger Lakes' thriving foodie scene like a real Finger Lakes local. On these tours, you'll hit all the best wineries, breweries, restaurants, farmers markets, and cheesemongers, allowing you to taste the rich bounty of the Finger Lakes without having to stress about logistics. All you have to do is relax and enjoy the ride! Read on for our four favorite local food & wine tour operators located throughout the Finger Lakes region.

1. Finger Lakes Food Tours
Finger Lakes Food Tours is one of our favorite local tour operators located right here in Canandaigua. Their motto is "Eat, Explore, Enjoy." This welcoming and informative walking tour takes you to all the best eateries in town, teaching you about local history and stopping to sample tasty snacks along the way. You'll enjoy authentic Mexican cuisine at Rio Tomatlan and mouth watering Indian dishes at Flavors as well as a variety of teas, olive oils, baked goods, and local beer. Tours happen on Fridays and Saturdays from noon until 3 pm. Tickets are $65 per person and advanced purchase is required.
2. Experience! The Finger Lakes Tours
Experience! The Finger Lakes Tours offers immersive, thoughtfully-curated tours all throughout the Finger Lakes region. With their tours, you'll taste exquisite wine and farm-fresh local cuisine while also seeing some of the Finger Lakes' most stunning lakes and waterfalls. Tours are centered around Cayuga Lake, Keuka Lake, Ithaca, and Seneca, each offering a variety of "experiences" to choose from. Popular options include the Cider, Wine, and Beer tours in Cayuga and the Traditions and Innovations Wine Tour of Keuka. You can select from public and personalized private tours.

3. Water to Wine Day Tours
People come to the Finger Lakes for their world-class wines and beautiful glacial lakes. Why not combine them both into a single, one-of-a-kind adventure? With Water to Wine Tours, you have the unique opportunity to visit several award-winning Finger Lake wineries entirely by boat. You will journey across the sparkling waters of Cayuga Lake, past beautiful Victorian homes, lush gardens, and magnificent vintage boat hoses, with Long Point State Park on the east side and and Sheldrake Point on the west side. Tours depart at 11 am, with 3 winery tastings and a lunch stop at either the Thirsty Owl Bistro, Amelia's at Long Point Winery, or the Busy Bee Cafe. The cost of lunch is not included in the tour price. Water to Wine Tours is located in Ovid, about 45 minutes from Canandaigua.

4. Winewagen
If you prefer to stay on dry land, consider taking a tour with Winewagen. Winewagen is by far the grooviest wine tour in the Finger Lakes. You'll explore local vineyards, craft breweries, and cheesemakers, all from a funky, bright green 1971 Volkswagen bus. Winewagen offers both public and private tours, all personally customized to fit the guests' needs. You set the pace in the Winewagen. In the past, tours have visited as many as twenty-three wineries in six hours and as few as two. It's totally up to you.
Planning a food and wine tour of the Finger Lakes? Book a stay at the Sutherland House Victorian Bed & Breakfast, a tranquil retreat located just minutes from downtown Canandaigua and gorgeous Canandaigua Lake.