December 2, 2018
Why You Should Visit the Finger Lakes in the Winter
By: Donafaye Zoll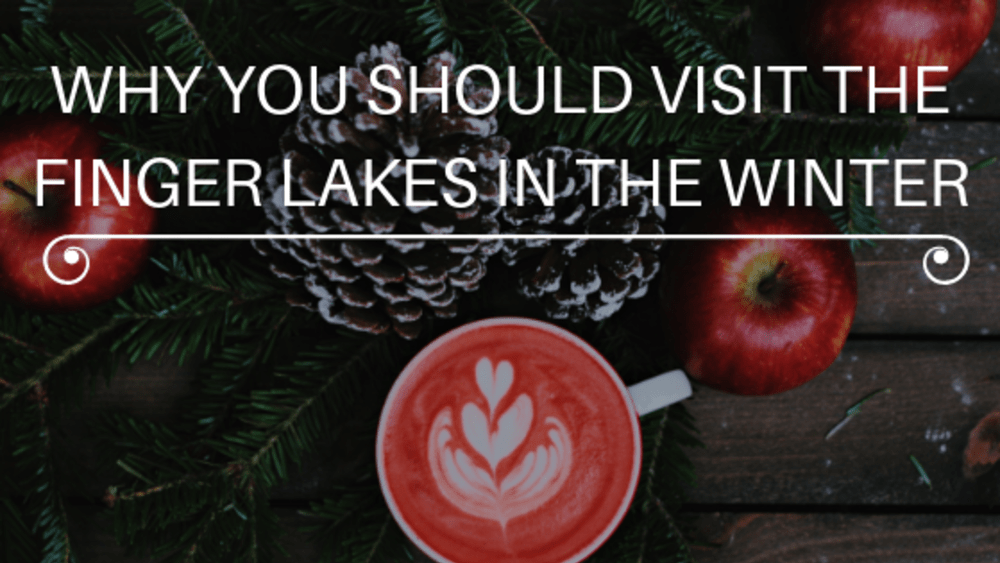 Winter is technically the "slow" season in the Finger Lakes, but we happen to think it is one of the best times to visit. Don't let the frigid temperatures deter you. The Finger Lakes are a true winter wonderland. Smaller crowds, beautiful snow-covered landscapes, and an incredible variety of events and activities make the Finger Lakes the perfect winter getaway. Here are the top 5 reasons to visit the Finger Lakes this winter.

1. Winter Sports
The Finger Lakes is a paradise for winter sports lovers. Whether you like to ski, snowboard, snowshoe, inner-tube, or ice skate, the perfect winter sport is waiting here for you. Located just a 20 minute drive away from Canandaigua, Bristol Mountain boasts a whopping 35 slopes for skiers of all levels. Their state-of-the-art snowmaking system ensures that your ride will always be in the best possible conditions. 96% of their trails have lighting, so you can ski during the day or at night, or both. If you prefer snowshoeing or cross country skiing, head to the Cumming Nature Center in Naples, located about 30 minutes away by car. The best place to ice skate in town is the Greater Canandaigua Civic Center. They even host a special family skate night on New Years Eve.
2. Ice Fishing
Ice Fishing is a unique and unforgettable winter experience. Thanks to the ample bodies of water in the region, the Finger Lakes is an incredible place to cast a line any time of the year. You can ice fish on our very own Canandaigua Lake as wall as Canadice, Honeoye, and Keuka Lakes. You might catch trout, largemouth and smallmouth bass, crappie, and perch. Don't forget to bring your shanty to stay warm!

3. Holiday Events
The Finger Lakes host a variety of incredible festivals and events throughout the holiday season. The Granger Homestead and Carriage Museum here in Canandaigua is home to the Festival of Trees, where you can stroll through dozens of trees and wreaths beautifully decorated by local schools and organizations. During the holidays, the Granger Homestead also offers sleigh rides, carriage rides, Christmas markets, holiday dances, and more. Victor hosts the annual Holiday Train Ride with Santa and Mrs. Claus and Seneca Lake hosts the fun-filled Deck the Halls Weekend November 30th-December 2nd. If you are here for New Years Eve, head back to Bristol Mountain Winter Resort for the annual torchlight run down the mountain, fireworks, and other celebrations.

4. Learn to Cook
If you can't stand the cold, get into the kitchen! The New York Kitchen offers a variety of cooking classes throughout the year perfect for amateur and experienced chefs alike. This is a great way to learn new tricks and recipes from their experienced master chefs. At New York Kitchen, you can brush up on the basics or focus on something a little more advanced. Their classes cover everything, including cheesecake, tapas, American Italian classics, baked goods, German food, sauces, sushi rolling, and so much more. They also offer classes for kids and families. A class at the New York Kitchen can help you prepare for holiday parties, learn a new skill as part of a New Year's resolution, or simply have a great time cooking up delicious food in their state-of-the-art kitchen.
5. The Warmth of a Bed and Breakfast
The warmth and welcoming spirit of bed & breakfasts makes them the perfect choice for your winter escape. At the Sutherland House Victorian Bed & Breakfast, we specialize in keeping our guests cozy and warm during the frigid winter months. During your stay, you can sit by the fire and enjoy the comfort and romance of our Victorian-era parlor, or unwind in one of our five spacious and relaxing guest rooms, many complete with double whirlpool tubs and fireplaces. In the morning, we will treat you to a lavish three course breakfast that includes fresh fruit, homemade baked goods, mouthwatering entrees, soft music, and candlelight. Fresh cookies and other tasty treats are never far away when you stay with us. We even offer a winter special so you can cuddle by the fire at a discounted rate! If you travel to the Finger Lakes this winter, consider booking a stay at the always warm and inviting Sutherland House Victorian Bed & Breakfast in Canandaigua.

Planning a winter getaway to Canandaigua? Book a stay at the Sutherland House Victorian Bed & Breakfast for a romantic winter escape you'll never forget!